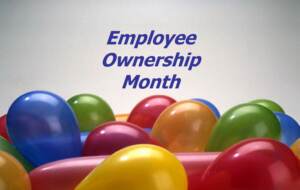 It's that time of the year when ESOP companies plan for Employee Ownership Month (October) or their year-end celebrations. If employee ownership is an important part of your culture, you'll want to find ways other than the annual statement to bring awareness and focus to your unique ownership structure. Here are 10 ideas Workplace Development, Inc. (WDI) brings you from ESOP-owned businesses nationwide:
1) T-shirt slogan contest
You don't have to be in the same physical location to participate in a slogan contest. If your people wear T-shirts, a contest is a great excuse to inspire thinking about what being an ESOP really means at your company.
2) Re-energize your ESOP communication team with planning
Our Committee Development Process can jump start a new committee or recharge even the most experienced ones that needs a new spark. Is your team newer? Click here to learn about a new committee's journey. Has your committee been around a while? Click here to learn about a mature committee's journey.
3) Invite an elected official to your company
Both ends of the American political spectrum support employee ownership. However, your particular elected official may not know how important your company is to your community and local economy. When you shine a spotlight on your company, employees take pride in showing off their company. Click here for guidance from The ESOP Association on networking with elected officials.
4) Fun with game show themes
Looking for a new way to revisit information you've presented in the past? You can make learning fun with game show themes like Jeopardy, Ellen's Game of Games, or Are you smarter than a 5th grader (ESOP Committee member)? WDI provides both behind-the-scenes tools and on-site support for helping committees and leaders to run these.
5) Just the facts, please
If you are reading this thinking, "that rah-rah stuff is not for us," you're not alone. Many companies achieve the same goals by pouring meaningful information into their formal and informal channels of communication. Click here for an example of how WDI created on-demand learning for all employee-owners.
6) Celebrate milestones
Who has entered the plan this year and who has become fully vested Perhaps Employee Ownership Month or your end-of-the-year holiday parties are an opportunity to recognize how important shared ownership is in your company by recognizing individuals who have reached these ESOP milestones or achievements tied to job-level performance.
7) Increase business savvy
The motivational impact of ESOP ownership depends in large part on whether employees can see how their work is tied to business goals. WDI's ESOP Game Business Simulation accelerates understanding among managers and employees about how their work impacts the big picture. Click here for information on WDI's customized annual meeting education events.
8) Get your ownership mindset on!
What does it look like when people are acting like an owner in your company? Clear away misperceptions about ownership so employees can get down to the business of transforming their talents into business success. Click here for a short explanation of how one company strengthened their ownership mindset by clarifying roles.
9) Community service projects
When employee-owners participate in community service projects it sends a positive message internally and externally. Corporate social responsibility and community commitment improves teamwork, helps to recruit great new team members, promotes your business, builds company pride, and illustrates what makes your company a great place to work.
10) Answer the question: What's in it for me?
This is one of the most popular employee meeting topics offered by WDI. If this is where your employee owners' focus is, you've got to tackle this first before getting people can dive into thinking and acting like owners.
Contact Cathy Ivancic at 330-896-7285 or civancic@workplacedevelopment.com if your company leaders or committee could benefit from our services to make the most of Employee Ownership Month or enhance your year-end events.