Ask business people how they have honed their skills, and you'll hear them talk about experience. Learning comes from success and failure, picking the brains of mentors, and the valuable experiences taught at the "school of hard knocks." Firms gain a competitive edge when employees throughout the organization have gained a level of business savvy. How do you teach others about the balancing act of running the business?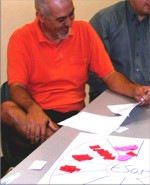 Thinking like a business person takes practice. Allied Mineral Products, Inc., in Columbus, Ohio, utilized Workplace Development's interactive business game to enhance its efforts to build a company of business people. During the hands-on event, employees from throughout the company accelerated their learning by making decisions in a simulated business game.
In the game, teams decide how to utilize the profits their businesses earn. Making choices like purchasing new technology, raising wages, improving internal processes or acquiring a competitor helped employees develop a better understanding of how the company retains its competitive edge. Employees with no business background were exposed to some of challenges and pressures that shape strategic decisions. Those with more business experience gained an opportunity share their knowledge with co-workers. They gained real-world knowledge without the costs associated with visiting the "school of hard knocks."
"The game enabled people to actually feel what it was like to make tough business decisions," says Sue Deffet, CFO, Allied Mineral Products.  Building practical skills through "game-playing" is part of the Allied Mineral Product's long-standing commitment to bolstering employees' understanding of the business. Ongoing communications and learning have paid off for Allied: the firm has enjoyed years of financial success in a rapidly changing, intensely competitive industry; employees have seen impressive rewards accrue to them via bonuses and increases in value in the company stock plan (ESOP).
Contact Cathy Ivancic at 330-896-7285 or civancic@workplacedevelopment.com to learn how to bring a business learning experience to your company.