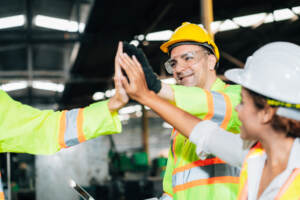 , Associate Consultant
Do employees at your company roll the dice on safety sometimes? We all probably do, often without even thinking about it. Facing that challenge, BSC Ventures, a custom envelope manufacturer, had a new request for their ESOP annual meeting: let's play a game that teaches our employee owners how important workplace safety is for all of us, our company and for driving ESOP stock value. That's how the Workplace Development's Safety Game was born! 
How do you play? 
The Safety Game is a competitive activity where teams of employees discuss different safety scenarios and decide whether they are going to invest in safety measures or not invest and roll the dice on safety. The safety scenarios were custom designed for BSC Ventures' manufacturing environment, reflecting daily challenges that employees face.  
"We wanted to use an interactive, fun activity to help our employees feel the value of a safe workplace, not just lecture them on safety," said Brian Sass, BSC's President and CEO.   
In this competitive activity, employees work in teams to choose whether to invest their company's money in safety or roll the dice. Either way, they faced the consequences of their decisions. The game's outcomes simulated real life; the odds were that if a team decided to roll the dice and not invest in safety, nothing would happen to them in the short term by taking a risky shortcut. Occasionally, just like in the real world, something good might happen and the shortcut may even have saved some money for the team. The same held true for investing in safety; just like real life, when a team invests in doing the right thing to improve safety, it's not always clear that the effort pays off. Other times, investing in safety led to avoiding major injuries and costs.  
"While each team tried to win by having the most money at the end, the game showed that if people take too many shortcuts, eventually there will be an injury and the consequences can be very expensive to both the injured employee and the company which effects all employee owners' ESOP accounts," said Jon Peyton, Senior VP of Operations.  
Safety Game Takeaways 
Employees left the hands-on Safety Game with a concrete understanding that while investments in safety don't always pay off, thinking and acting like an owner and working safely every day does pay dividends. "Not only did our employee owners learn through playing the game, but it was the highlight of the annual meeting," Sass said.  
To drive the connection between an individual's actions and ESOP stock value, employees were shown just how expensive accidents can be for the company. Using BSC Venture's data on accident costs, employees saw what their share value is now compared with what the share value could have been if all accidents had been prevented during the last three years. Without the cost of accidents, share value would have been more than 10% higher than the current ESOP stock value! Now that's a powerful message for everyone in the company on the financial and personal value of a safe workplace.  
Interactive Games and customized, hands-on activities are a great way to add excitement to your annual meeting and continue developing your ownership culture. If you want to gain the benefits of a customized Safety Game at your company, contact Workplace Development.