The question: how do the Cavaliers keep superstar free agent LeBron James in Cleveland?
The answer: ownership (James has expressed an interest both in being an NBA team owner and staying in Cleveland).
So, what's stopping Cleveland Cavaliers' owner Dan Gilbert from making this happen?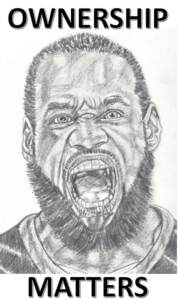 First, current rules and salary-cap restrictions prohibit active NBA players from being team owners. People, however, write rules and ought to change them when they no longer make sense. But, even if the NBA changed its rules, organizational inertia and ownership biases are still obstacles to player-owners. A similar problem (i.e., employees not owning the companies where they worked) existed in corporate America before Congress created ESOPs (employee stock ownership plans) in 1974. Prior to that, it was difficult to extend company ownership to everyone working for a business. Many "average" employees – just like in today's economy — didn't possess the financial wherewithal or discretionary income to acquire stock in their companies. ESOPs eliminated this challenge because, normally, they don't require any out-of-pocket employee investment to become an employee owner.
Since 1974, the number of ESOP firms has grown to nearly 7,000 businesses. Today, more than 14 million employees own part of the companies where they work. ESOPs have been a victory for America's capitalist economy because they create more capitalists and can be a powerful tool to transform hired-hand workers into active, involved, dedicated employee-owners.
Just like in corporate America, ownership's transformative power can improve the NBA. As America's most progressive sports league, a change of NBA rules would eliminate the artificial distinction between players and owners. Start by making James and a few other select players owners. Once NBA Commissioner, Adam Silver, the owners and players create a process that works, they can extend ownership to all the players.
Part of Silver's challenge is keeping the league competitive and interesting to fans. If NBA Finals MVP Kevin Durant, for example, had owned part of the Oklahoma City Thunder, would he have stayed in Oklahoma rather than joining the Golden State Warriors? Remember, the Thunder were up 3-1 before the Warriors came back to win that very competitive playoff series. Like with America's economy, the NBA could allow each owner to decide whether to offer ownership to players. A franchise might be able to utilize ownership to create its own super team because, as ESOP companies know, ownership can be a powerful recruitment and retention tool. NBA teams, like most ESOP companies, could also create a vesting schedule where players earned their individual ownership stakes over a period of years (most ESOPs have a three or six-year vesting schedule). Would all-star Gordon Hayward have stayed in Utah last season if signing with Boston as a free agent meant he would have forfeited ownership in the Jazz?
Someday, Gilbert will want to sell the Cavaliers. So, in addition to ownership, he could offer James the first right of refusal to purchase the team and make James' exercising of the offer contingent on playing the rest of his brilliant career in a Cavs' uniform. Then, if James and his buying group could match the highest bid's terms, he would own the team. Imagine Northeast Ohio's most successful basketball player owning his hometown team. That would be great for Northeast Ohio and a fantastic storyline for the NBA. Would the Chicago Bulls be more interesting if Michael Jordan owned them, rather than the Charlotte Hornets? What about Larry Bird owning part of the Celtics, Kobe Bryant having a piece of the Lakers or Tim Duncan owning San Antonio Spurs shares? Once you start considering the possibilities, ownership's transformative power makes total sense for the NBA.
To make this change, the NBA will need to overcome the societal bias against players being owners. Alas, the same misguided thinking still exists in the minds of some in corporate America, the business press and government regulatory agencies. People argue that "normal" employees shouldn't be owners because they're not smart enough to understand the risks and that company ownership is a "right" that ought to be reserved for a select few. Those specious rationalizations grossly underestimate the financial savvy of employees and the economic power ownership. Decades of studies have shown that ESOP firms, when people understand what ownership means and have a say-so in their daily jobs, outperform conventional competitors. Why? Because ownership matters: when I own it, I care more about my company and take positive action to improve it.
It's time for Dan Gilbert and the NBA to follow a similar path: make LeBron James an owner and a life-long Cleveland Cavalier.