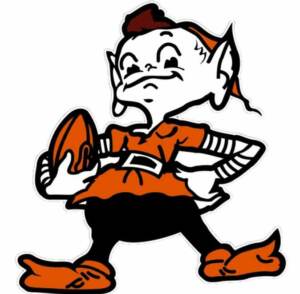 As leaves turn orange and another NFL season approaches, what can America's favorite team, the Cleveland Browns (well, ok, my favorite) teach us about ESOP stock value drivers? After all, many of us love our favorite teams, and sports metaphors can be great employee-ownership training tools. So, if you're looking for new ideas to engage employees as owners, read on.
1) Projections of greatness
Football expectations in Cleveland seem to be soaring higher now than when Bernie Kosar delighted fans side-arming TDs to Webster Slaughter, Brian Brennan and Ozzie Newsome (that's the mid to late 1980s for those who cannot recall when the Browns were a good team). In fact, some semi-sane fan forums project Browns playoff victories this season. Bone-throwing, rabid, dog-pound dwellers, clearly much higher than even legalized pot allows, are barking about the Super Bowl.
"Expectations and projections are important drivers of value," said Brian Bornino of GBQ Consulting in Columbus, Ohio. "But what's really critical in valuing an ESOP is whether the company can consistently meet those expectations. In other words, are the projections realistic given the firm's business operations, performance history, the marketplace and economic environment?"
When a company's prospects shine as bright as the Browns, it's critical for the appraiser to be realistic. "When we evaluate a company's projections, we look at historic performance, too. If the company has grown at 5% and projections show 20%, we want to know why," commented Bornino. "Let's face it, the Browns' history has been beyond terrible — and I'm saying that as a Cleveland fan — but things changed a lot with last year's 7-8-1 record." An appraiser can give more weight to recent history, but it's important to temper enthusiasm until they see consistent performance. Let's not forget, even though we really want to, that Cleveland's record was a less-than-sterling 1-31 the previous two seasons combined.
2) Management continuity matters
Successful ESOP companies have strong management teams with valuable, practical skills and knowledge. They also establish clear successorship strategies. In fact, as many people know, an ESOP is often started as a business succession/continuity tool. A valuator looks for management continuity, consistency and competence when they appraise an ESOP company's performance.
When one evaluates the Browns' leadership, the team doesn't fare too well. Cleveland has had eleven head coaches in the last twenty years. "If an ESOP company's leadership had that kind of turnover, it would be a major red flag," said Dave Gustafson of Northeast Ohio-based Apple Growth Partners, an accounting and business advisory firm. "In my 30 years working with employee-owned firms, I've never encountered a company situation anywhere close to that." The Browns' current coach Freddie Kitchens has never been an NFL head coach and was an offensive coordinator for only half a season before being elevated to the position. If an ESOP faced a similar situation, would an appraiser factor in the fact that it's an ESOP Company President's first season? "Yes, for sure," Gustafson commented. "That does not mean a new Company President will not succeed. But as an appraiser, we will consider the possible risk that limited experience may bring. Appraisal firms want to consider the risk as part of the valuation process until they start to see the results."
On the upside, the Browns' General Manager, John Dorsey, played professional football and has more than thirty years' experience, including being the Kansas City Chiefs' GM before joining the Browns in 2017. Dorsey is the ninth Browns' GM since the franchise rebooted in 1999. From a valuation perspective, it would seem that keeping Dorsey beyond the Browns' 2.5-year average GM tenure and establishing some management continuity will have a positive impact on the squad's overall performance and value.
3) Products and services/general marketplace
ESOP appraisers often do a SWOT analysis (strengths, weaknesses, opportunities, threats) as part of their calculation to determine a company's share price. They examine the company's products and services, asking questions like, is the market for them growing? What's the impact of technology on the product or service lifecycle? Who are the competitors and are they local, regional, national or international? Answers to these and other questions help appraisers determine a firm's enterprise value.
"Adding new products and services is an important part of generating ESOP shareholder value," said Tim Jamison of Prairie Capital Advisors, a valuation and ESOP advisory company. "The question is how the new product or service will be received by the market. That, of course, cannot be answered until the idea hits the marketplace. So, it's important not to put too much valuation weight on new ideas until they produce actual, profitable results."
A football team produces a win or loss (or, alas, for the Browns, sometimes a tie). Players, coaches and the competition determine whether a team wins or loses. So how does Jamison think the Browns' 2019-20 roster stacks up? "First thing I want to say about the Browns is that they ruined Tim Couch, the best QB to ever play at Kentucky," editorialized blue-bleeding U of K Wildcat, Jamison. "Now that I've gotten that off my chest, I'd definitely say Cleveland has upgraded its roster significantly. Not only has the team made some great draft choices — Myles Garrett, Denzel Ward, Nick Chubb and, of course, Baker Mayfield — it has picked up some excellent players in trades, like Odell Beckham, Jr. All those changes ought to have a positive impact on Cleveland's value."
Like the other appraisers, however, Jamison feels that Browns fans should be cautious and not overvalue the team before it has demonstrated consistent performance on the scoreboard.
4) Culture matters (but it's hard to quantify for an appraisal)
Study after study has demonstrated that a key factor differentiating successful ESOP businesses is the development of an ownership culture. When employees have an ownership mentality, they take action to serve customers, share ideas and improve the business every day. Those steps, little and large, can pay big dividends and grow ESOP stock value. "What we typically look for," said Nick Sypniewski, of Cincinnati-headquartered, valuation firm ComStock Advisors, "are the performance improvements associated with a successful ownership culture. Things like improved cash flow, increased revenues, higher EBITDA and the cost-saving strategies informed, engaged employee owners generate."
Clearly, the Browns culture remains an enigma. New Brown Odell Beckham became both a giant talent and headache in New York. Baker Mayfield seems on his best behavior but has been as volatile as an Oklahoma twister in the past, even planting a Sooners flag in the middle of Ohio State's stadium after a collegiate victory there (all will be forgiven, naturally, if the Browns continue winning). GM Dorsey has taken some calculated risks signing talented, troubled players like Kareem Hunt, Sheldon Richardson and Antonio Callaway. How all this plays out over the course of a sixteen-game season will be watched and over-analyzed by millions of fans and the controversy-loving media.
"Cleveland's culture is potentially a huge winner or loser. If things go well, one can easily imagine players rallying around each other and developing a positive, winning, locker-room atmosphere," Sypniewski commented. "If, however, they get off to a poor start, can an inexperienced coach like Kitchens keep all the egos in check and on the same page?" Time will tell.
5) Mitigate the factors that affect share value
An appraiser's analysis can lead them to applying discounts to your firm's ESOP value. Some common discount factors are a lack of marketability for ESOP shares, customer concentration and repurchase obligation. Lack of marketability and repurchase obligation are connected. Because most ESOPs are privately held businesses, their shares are not readily traded on a public market, like the NYSE. The company, therefore, must buy the shares from departing participants (i.e., repurchase obligation).
A customer concentration discount could be applied to a company that depends too much on one product or has a significant business concentration with one or a handful of clients. "A business with a few major customers can be subject to business challenges/market forces much more than one with a diversified portfolio of products, services and customers," said Radd Riebe of Stout's Cleveland office. "Evaluating the Browns would lead me to apply a Baker Mayfield discount," he said. "What I mean by that — and this applies to every professional football team — is that if Mayfield gets injured or cannot play, the Browns' ability to successfully perform drops tremendously. While it certainly would hurt the squad to lose players like Garrett, Beckham, Landry or Chubb, none of them have the same impact as a quarterback."
Successful ESOPs, like successful football teams, work to mitigate the impact of discount factors. This can be accomplished by introducing new products and services, working to expand beyond their current customer base, or looking for acquisitions that will add new talent and diversify their revenues and profits. "You'll sometimes hear analysts comment that the most important position in the NFL is backup quarterback," said Riebe. "Look no further than the Eagles' 2018 Super Bowl win to illustrate that point".
6) Avoiding Yet Another Cleveland Browns Season
"Hey, I heard you were writing a Browns-focused blog and, as a life-long fan, I demand the opportunity to comment, even though I'm not an appraiser," interjected ESOP attorney and Cleveland super-fan, Scott Stitt. "So, here's the bottom line: playoffs, of course, would be great and the Super Bowl, well, that would be set-the-Cuyahoga-River-on-fire-again mind-blowing, but I just want us to be better than last year. That's not asking for too much, right?"
From an appraisal perspective, improvements, even incremental, are critical to growing ESOP stock value because they have a multiplier effect. That is, your company doesn't get better just this year, it gets better as long as the improvement remains part of your business processes. And that's where the long-term value of employee ownership enters the playing field: people gain the benefits of today's actions that build future wealth.
While the NFL may be the only major sports league where a team can go from worst to first in one season, the important thing is establishing an organization that creates long-term value. Teams like Green Bay, Pittsburgh, New Orleans, Seattle, the Bad Browns (Baltimore) and, ugh, New England have been high-performing organizations during the last decade and beyond. Given the Bad Browns have won two Super Bowls since leaving Cleveland in the middle of the night, and our former head coach (who will remain unnamed under his hoodie) has led the Patriots to six, you'd think the hard-luck losers of Lake Erie are overdue for a successful season.
Just like with the Browns, successful employee-owned companies head onto the business playing field and earn it every day. Training people about the factors that drive ESOP stock value and empowering them to improve the business in their daily jobs will enable employee-owners to make better decisions and create more value for everyone in the long haul.
***
If you want to discuss how to communicate your ESOPs benefits or America's greatest football team, contact me at jbado@workplacedevelopment.com.
Special thank you to the people quoted in this article. You can contact them at the email addresses below
Brian Bornino, bbornino@gbq.com
Dave Gustafson, dgustafson@applegrowth.com
Tim Jamison, tjamison@prairiecap.com
Radd Riebe, rriebe@stout.com
Nick Sypniewski, nsypniewski@comstock.com
Scott Stitt, scott.stitt@tuckerellis.com
Go Brownies!!!!!!!