"Early in 2020 a team of employees worked to identify our company's core beliefs" says Theresa Riley HR Director for Equity Engineering Group|E2G.  Riley shared their company story as part of  the ESOP Association's OH/KY Chapter meeting in February. "It looked like we were going to kick off a year of talking about belief in having relationships that last, that knowledge is power, that trust is earned, in a safe environment, in the next generation, in exceeding expectations, in having your back and in hard work and family." And then, enter the pandemic.
Any hope for face-to-face conversations about these newly articulated beliefs were dashed.  "We had a new reality in which employees would have to transition to nearly 100% remote work."  Riley explained that this raised some more basic questions, "How would people stay connected with each other as human beings and how would we avoid burnout?"
Creating our own "Equity Social"
The employee owners plunged right into collaborating using Microsoft Teams. "Unfortunately remote work means that we don't always take healthy breaks.  Those watercooler conversations were lost." Theresa explained that people needed to find ways to replace the valuable relationships and community connections that are so much part of who we are. "Several employee owners got the idea that Microsoft Teams could be utilized to help people stay in touch on a more personal level."
This led to the development of an internal social media forum, called "Equity Social," where people can have those brief, but very important, interactions with their co-workers. "It started with some great photos that became the 'Photo of the day channel,' where people share amazing photography for their co-workers to comment on. This was quickly followed by 'Pet channel' where people can share candid shots their cats, dogs and even a pair of Lady Amherst's Pheasants." Other channels on Equity Social focus on cooking, recipes, hobbies and outdoor interests.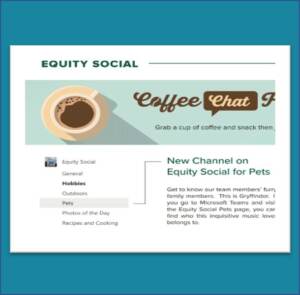 Coffee Chat Fridays
"It helps to remember we are in this together.  There is a benefit to seeing our co-workers smiling faces," Theresa noted when describing the purpose of the Coffee Chat Fridays.  On Friday mornings  Equity employees can voluntarily join a Teams meeting for informal conversations. Riley explained that "we only have one rule at Coffee Chat Friday: no work talk allowed."
Adopting an acre in memory of a great friend
Social-distancing protocols are especially limiting when there's a real need to be together to support each other. That's what happened during 2020 when Equity experienced the unexpected death of a wonderful friend and co-worker. A group of employees asked the family the best way to remember their beloved co-worker. Because he was an outdoor enthusiast the company adopted an acre in the Cuyahoga Valley National Park (CVNP). "When we are able to be together again in person we plan on bringing employee owners together in this beautiful location."
Recognizing others using Lattice
Equity is in the process of adopting a performance management tool, Lattice, that allows an employee to give another employee at any level recognition for a job well done. "People can send each other what the system calls "kudos." It's a short description of a job well done that anyone can provide to anyone else in the company."
Equity Engineering group is a group of talented professionals who have built and grown their business in part because of their core beliefs. The stories that Theresa Riley shared for the OH/KY event in January show that they did more than just talk about their company's beliefs this year. They found new and innovative ways to preserve the human connections necessary for strengthening their core beliefs.
This article originally appeared in the ESOP Association's newsletter. Cathy Ivancic serves as a member of Equity's corporate board. Since the original publication of this article, Equity Engineering Group was recognized as a "2021 Top Workplace" by The Cleveland Plain Dealer. 
For more information about virtual ESOP and business training call Cathy Ivancic from Workplace Development at 330-896-7285 or email her at civancic@workplacedevelopment.com.