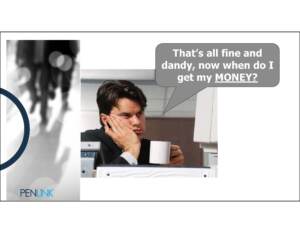 Want a practical way to communicate your ESOP's powerful benefits without having meetings or training in person? A custom on-demand education program– like PenLink's Certified Employee Shareholder Series – can be just what you need.
"We used to talk about our ESOP one time a year at our annual meeting and that just wasn't enough," explains Melissa Price, Director of Human Resources at PenLink – a technology company located in Lincoln, Nebraska. "Annual communication meant that our newest people didn't understand the plan and our longer-term employees could not get the deeper information they needed to understand how they can help grow value." Today PenLink employees gain an understanding of their ESOP through a series of six-minute, customized, on-demand videos that participants can view on their computer or phone.
Being a mature ESOP with years of success doesn't necessarily ensure that people will perceive the ESOP as real or meaningful. "We needed to get the ESOP in front of people more frequently. On top of that, it was time to 'connect the dots' so people knew more about how our ESOP is tied to our overall company purpose," explains Price. "ESOP ownership is a key part of how we do business. It is an important piece of our company's culture." PenLink consulted with Workplace Development Inc. to create the Certified Employee Shareholder Series that does just that – it connects the dots on what ESOP ownership is and how it is a meaningful part of everyday work.
Act Like an Owner. Think Like a Customer, is one of PenLink's core values. PenLink's Emplo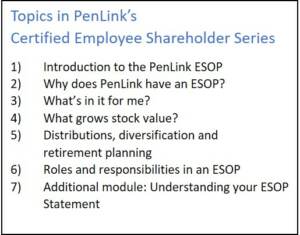 yee Shareholder Series answers basic questions people need to know about the plan. The reasons the company has an ESOP, the company's corporate values, and the company's purpose are threaded throughout the modules.
"My favorite part of the series is the section where it discusses how everyday job level decisions have an impact on stock value," says Price. "It really brings home how everything from training our customers about our products to making good choices when it comes to travel expenses all impact our ESOP."
The series has six basic ESOP and business education modules plus an added module on how to understand your annual ESOP statement. After completing all the segments and answering a short quiz, employees at PenLink become "Certified Employee Shareholders." Because the information is critical to the company's success, PenLink requires all employees become certified. The interactive video format enables employees to control where and when they view the series.
To facilitate the educational process, PenLink sent out one module out each week for six weeks. Some people took the certification quiz right after it was sent. Other people waited until the last week, viewing all the modules and taking the certification quizzes all in one sitting. Price is convinced that the length of the module mattered a lot in the success of the series noting. "The short length of the segments really helped get everyone through the information," she says. "Even those who needed a reminder to view the modules could view them all and take the quizzes in just about an hour."
Besides being a resource that allows participants to learn at their own pace, the Certified Employee Shareholder Series has brought other advantages to PenLink's ongoing ESOP communication and culture development, including:
A permanent resource available 24/7
The modules are available on demand to anyone looking for an answer to a question or better understanding of a concept about the ESOP. This means that employees and managers can go to these segments and get consistent answers to the same questions.
A tool for on-boarding
Rather than leaving it to chance (e.g., talking with a well-informed co-worker) or an annual meeting, the Certified Employee Shareholder Series is part of onboarding new employees. It provides them with a quick, practical summary of the benefits of PenLink's ESOP. They are up-to-speed on the details of this unique benefit and its potential for them and their family.
Defines next steps in ESOP communication efforts
Responses to the quizzes are a practical way to flag the next topic needed in the ongoing communication process. The company clarifies and reinforces important ideas in monthly emails based on the questions that people tend to miss on the quizzes.
"Even though we have had our ESOP for a long time and it is a tremendously valuable benefit, we still had a lot of people who did not feel it was real, says Price. "Since doing the certification series, I've noticed that people are better informed and they are asking much better questions about the plan." The Certified Employee Shareholder Series is a practical, efficient way to foster a deeper understanding of what the ESOP really means at PenLink.
If you're interested in taking your employee ownership education to the next level with a Certified Employee Shareholder Series (sometimes called a Certified Employee Owner program or "CEO program"), contact Cathy Ivancic at civancic@workplacedevelopment.com or 330-896-7285.