Making the connection between employees' daily activities, company success and ESOP stock value with America's favorite football team, the Cleveland Browns (ok, maybe not America's favorite, but they're mine) might sound crazy, but that's exactly what Brian Bornino of GBQ and I did during last week's Ohio ESOP Association's "Getting Your ESOP Off to a Good Start" session.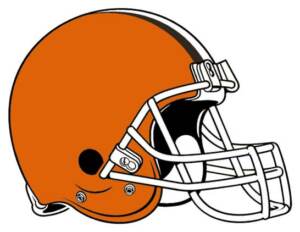 Everyone knows employees' understanding how they affect value is a critical element in a successful ownership culture: the question is how to communicate value – a somewhat, let's be honest, dry topic — in a fun, informative way. Sharing his practical experience with the standing-room only crowd, Brian focused on how a stock's value, unlike the value of many other things, is driven by expected future performance. When a firm missed expected results, value tended to decrease; on the other hand, when an ESOP exceeded expectations, stock value often increased.
To make the abstract point more tangible, Brian, also a long-suffering Browns fan, shared an illustration we use in our business literacy and ownership-culture education. While many smart, skilled employees don't understand the nuances of the stock-valuation process, they do get football and have expectations about their favorite team's performance. Those expectations, like those for your business, determine whether their team had a good or bad year.
So, what were expectations for Lake Erie's pigskin pride entering the 2014 season? One looking at the Brown's recent past, alas, found less than stellar results.
• 2008 = 4-12
• 2009 = 5-11
• 2010 = 5-11
• 2011 = 4-12
• 2012 = 5-11
• 2013 = 4-12 (wins, unfortunately, are on the left side)
Combining that inglorious history with yet another new, unproven rookie head coach led to snail-belly low expectations for 2014. Sure, dog-pound diehards (you know who you are) believed pre-rehab Johnny Football Manziel would carry Cleveland to the playoffs, but most sane people (let's not forget that fan is short for fanatic) thought a 500 season would be a tremendous achievement and when pressed quietly hoped for something less painful than another 5-11 finish.
By the end of week eleven, an amazing thing had occurred in Browns' town: the perennial cellar dwellers sported a 7-4 record, tied for first place in the NFL's ultra-competitive Central Division. Blowing everyone's expectations caused values to soar on the Browns Stock Exchange. The team's surprising record created new expectations; the same thing happens based on your company's business performance. In many Browns' fans eyes, not only would the team make the playoffs, it might even win a game. In dark corners of Northeast Ohio break rooms, dog-eyed fanatics whispered about Super Bowl possibilities and otherwise rational individuals took them seriously.
You may know this seemingly upbeat tale still managed to produce, alas, a very Cleveland-like ending: the Browns bubble burst, the squad lost all its remaining games and finished the 2014 season 7-9. The fact that fans expressed disappointment with the 7-9 record – compared with the previous season's abysmal 4-12 – demonstrated how powerful expectations become. If Cleveland lost the first five games, then went seven and four over the remaining eleven contests, people would have been excited about the team's prospects. In valuation terms, how you achieved business results mattered.
Switching teams, Brian shared the example of the real Ohio football powerhouse: the Buckeyes. Expectations, as always, ran high for THE Ohio State heading into 2014, but few foresaw the team playing three different starting quarterbacks and winning the first national championship playoff series. Unfortunately for the Buckeyes, that success means expectations for 2015 will be sky high: anything less than another national championship will be a failure to many Buckeye fans.
While you don't have to use football, it's important to educate employee owners about how expectations drive ESOP stock value. Remember to strive to link people's personal experiences to the importance of stock value and other employee ownership "need to knows". Once employee owners get the fundamentals, the challenge becomes connecting their daily activities to company success and stock value growth.
As for the Cleveland Browns, well, there's always next season!