As an ESOP, your company has a great opportunity to build a successful ownership culture that delivers the powerful performance benefits of employee ownership. Are you communicating and training effectively to make the most of this opportunity?
MyPath faced the challenge of educating more than 2,000 employee owners spread across two states in nine different companies about what it means to be an owner.  The human services company's innovative, successful solution:  the creation of a Certified Employee Owner (CEO) education program.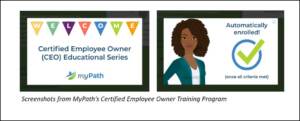 "We've been looking for a way to explain the ins and outs of our ESOP benefit to co-owners, and Workplace Development's CEO training met our need," said MyPath Chief Executive Officer Terry Leahy. Created with the help of an internal MyPath team and a professional video company, MyPath's CEO program consists of nine, customized video segments which communicate the specifics of MyPath's ESOP, the "why" behind the Company's employee-ownership history, how employees drive ESOP value in their daily jobs, what it means to be an engaged MyPath employee owner, and much more.
Each five-minute video shares need-to-know information, presented with fun, graphic explanations of employee ownership at MyPath.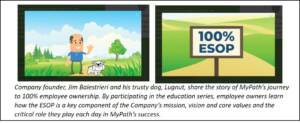 After each video segment, employee owners participate in a short, five-question quiz, to test their knowledge and ensure they retained the video's key points. "We added the quiz feature to reinforce the key takeaways of each module," said Bethany Skalitzky, Director of Total Rewards. "The quiz isn't about getting a grade, though.  Our goal is for employees to truly understand the ESOP and their role in our company's success." In fact, MyPath's development team structured the process so employee owners can retake any quiz if a question is answered incorrectly. Participants also have the ability to view each video multiple times to ensure they understand critical ESOP information. Once a participant watches all nine videos and successfully passes the quizzes, they earn CEO or Certified Employee Owner status. "We plan to recognize our first group of  'CEOs' this summer, in conjunction with MyPath's fifth anniversary as a 100% ESOP," notes Leahy. "We want the achievement of CEO certification to mean something to our co-owners and hope that becoming a 'CEO' will inspire them to educate others about employee ownership and its benefits."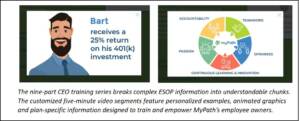 To continue building its ownership culture and enhancing employee owners' skills and knowledge, MyPath plans to add a new module to the video series periodically.
While MyPath developed the CEO education series for current employee owners, the firm is excited about its potential use for employee recruitment and new hires. "We think it will be fantastic for onboarding because new hires will be able to learn about our ESOP at their own pace," notes Skalitzky. "For example, if someone wonders how they join our ESOP, they can watch that module at any time."
The education series also features videos on the role of the employee owners, the ESOP distribution process and how to read and understand MyPath's annual participant statement. The team anticipates that, for example, when the new stock value is announced people will rewatch the stock valuation video to remind themselves of important factors that drive MyPath's success and ESOP stock value.
"The video series is getting great reviews for how it portrays our company, our culture and our ESOP plan," notes Leahy.  "We look forward to using it for years to come to support our ownership messaging."
If you'd like to discuss how Workplace Development can help you create a customized training series like this Certified Employee Owner (CEO) program, please contact Jim Bado at jbado@workplacedevelopment.com or 419-427-2435.