You probably made a significant financial investment in your ESOP plan last year. If you're not integrating the annual ESOP statement into your communication and education process, then you're missing an opportunity to capitalize on that investment.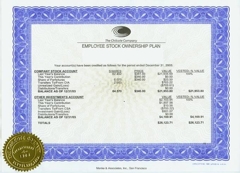 When statements get distributed, your employees become interested (albeit for a short time) in your ESOP. But if they can't read and understand the statement, you're squandering your investment in this valuable benefit. Make the most of your statement by utilizing Workplace Development's field tested communications and education services.
For more than twenty years, we've worked with ESOP companies to successfully use annual ESOP statements to:
Generate enthusiasm for ESOP ownership
Build a practical understanding of your ESOP's benefits
Connect employees' daily performance with company success
Educate people about stock value/company success
Use the ESOP as an employee retention/recruitment tool
Below are some of the questions we use to help our clients to develop just the right approach.
What do you want to say?
It is not just about the statement or stock value. This is your chance to clear up confusion and define what you expect of ESOP ownership at your company.
What style will work best for your company?
There are many ways to send the message. You can use meeting on-site or off-site, a web-based seminar, develop a video or create customized written materials. What will work best at your company: interactive lectures, facilitated discussions or a hands-on learning activity?
Who communicates the message?
Should it be insiders from your company or an outside firm? Executive leaders, members of the the ESOP committee, mid-level managers or some combination?
For firms who traditionally have used insiders — like the Florida-based Berkley Group — switching to an outsider can bring new life and interest to the annual statement communications. "We did an exhaustive search looking for the best ESOP communications person in America. For someone who could explain our plan not only in understandable terms, but also in a fun, interesting, engaging way, explains Berkley Group Vice President, Bruce Polansky. "And we found him: Jim Bado of Workplace Development is the LeBron James of ESOP communication."
If it is time for an outsider presenter, Workplace Development provides polished, professional speakers who understand how to build enthusiasm for your ESOP plan, make the connection between the ESOP and business success and explain ESOP complexities in laymen's terms.
If the right messengers are insiders, like at Indiana's BR & Associates, there's no need to reinvent the wheel. Workplace Development's field-tested templates, customized presentations and practical train-the-trainer services ensure success. "The response to the customized annual statement presentation you developed for us was overwhelmingly positive," said CEO Jason Kelly. "I am very happy with the level this was broken down to, and I truly believe it resonated with people that prior to seeing it this way, never got it. I received more comments and specific questions in three days on the ESOP than I've received in the last three years."
No matter how you communicate the annual ESOP statement, it is a one-time event. Statement distribution is a moment in time when you have ESOP participants' attention, but it is only the beginning of a successful communications and education process, not the end. To embed the ESOP in your culture and get employees thinking and acting like a business people in their daily jobs, you need to establish on-going communications about ESOP ownership throughout the year. Making the most of your annual ESOP statement is a great place to start.
Contact Jim Bado us at 419-427-2435 or Click here to seize the annual statement opportunity and kick start your communications and education process.