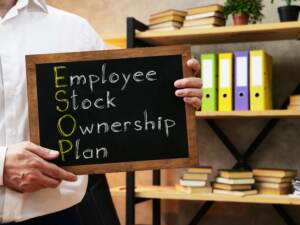 , Associate Consultant
Congratulations, your company just put in an ESOP! Your executive leadership team is ecstatic. You have spent months, or maybe years, learning the technical details, thinking about the benefits and dreaming of the wealth-building possibilities for all employee owners. Now is your chance to tell your employees and your business contacts all about it. How are you going to communicate it? Your enthusiasm for the ESOP may not be as contagious as you might think. It takes work.
Tell your story
Make the ESOP more than an announcement and sharing the dull details of a benefit plan; share the "why." There's no one right way to share your ESOP story, but each employee should know how they became an employee owner and understand the passion behind your decision. This is the chance for selling owners, founders or executive team to speak from the heart and build the foundation of your ownership culture. Consider using in-person meetings, celebratory events, webinars, videos, letters — or all of them — to get the message across. And be sure to share your story with your business contacts in a press release, on your website, on LinkedIn, or even in your email signature.
Say it over and over in different ways
To get employee buy-in during your ESOP's early days, keep the communications going, and in as many different ways as possible. If you've ever heard the old marketing "rule of seven," a person needs to see or hear something around seven times before they take action. To turn your employees from hired hands into engaged employee owners, think about using tools like fun in-person meetings or webinars, one-pagers, newsletters, brochures for family, quick facts and infographics, or short videos. Communications should have varying levels of detail and cater to a variety of learning styles and audiences. You may need distinct communications for office-based employees, remote staff and field teams who aren't in a central location. It's important to get diverse voices in the mix, so include several internal voices or bring in outside experts to share how great your ESOP is.
Be prepared to answer questions
Think about how many questions you had at first (or may still have) about your ESOP. Your employees are going to have questions and concerns about what the ESOP means and what's in it for them. Beyond your written communication materials, it's important for leadership to have answers to common and difficult ESOP questions. You don't want to be unprepared when an employee innocently asks, "How much did we pay for this?" Getting help to coach leadership and management on agreed-upon answers will squelch rumors before they start and set clear ownership expectations for everyone.
Keep the enthusiasm
After the initial excitement of the ESOP fades, how do you keep everyone from going back to business as usual? While one of the benefits of the ESOP is that nothing changes, it's also an invitation to think in new ways. Research shows that employees who are engaged and informed about their ESOP help the company perform better. To make sure you are getting the most out of employee ownership, create a communication strategy that incorporates engaging and fun ESOP training and opportunities for two-way communication. You may decide to start a committee of internal advocates or a formal ESOP Committee that will become better informed to get answers to questions about the ESOP and build ownership culture through events. Consistent messages shared in fun ways — like a learning game or a contest — are some of the best adult learning tools that build team trust and relationships.
Don't be afraid to ask for help

Whether you're a brand new or mature ESOP, it's important to take advantage of the support that's available to you. If you join a local or national ESOP group, you'll find a community of corporate and professional members who can lend a supporting hand. Workplace Development has years of experience and field-tested resources to make the most out of shared ownership. Let us develop a customized rollout plan for you that ensures you start off on the right foot or provide fresh approaches to continue reinforcing your essential employee ownership messages.
To hear more about how Workplace Development can help you communicate your ESOP, contact Workplace Development.