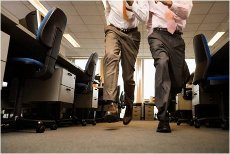 Leading owners can be a double-edged sword. On one hand, it brings an enormous opportunity — your workforce has every reason to act in ways that help enhance company success and stock value. On the other, it often reveals that many employees lack the knowledge, attitudes, and skills to "act like an owner." In addition, with ESOP rewards so far down the road, maintaining a sense of urgency is a challenge.
It's in everyday work, however, where the "rubber meets the road." For this reason, building mid-level leaders' skills and knowledge is critical to your ESOP's success. This "front-line" group defines what is expected of shared ownership and teaches people everyday how they contribute to long-term ESOP rewards.
Based on more than twenty years success working with ESOPs, we've identified specific ways to help this essential group in your company. Below are a four of the ways you can equip your supervisors with tools for growing your culture of shared ownership.
Develop simple ways to answer complex questions
If a supervisor can't quickly answer a simple question, employees lose interest or even worse make up their own answer. A question that seems simple but is complex like "When do I get my ESOP money?" or "What makes stock value grow?" is an opportunity. Use Workplace Development's customized written or electronic tools to provide your managers with fast, accurate, and understandable ways to consistently answers common questions that are often more difficult than they seem.
Supervisor ESOP awareness and ownership skills training
When your managers have genuine enthusiasm for "thinking like an owner," their energy is contagious. Since getting employees to think and act like business people is key to your ESOP's success, many firms choose to invest more training dollars in emerging leaders and supervisors than in other groups.
Business 101
Customized business education enables mid-level managers to grow their knowledge about how your business succeeds. Supervisors who can explain how the business makes money with confidence will energize employees. WDI's award-winning ESOP Game and other interactive, practical business education sessions provide supervisors with a new perspective on why it all matters. See Workplace Development — Gain a Competitive Edge Playing Games for more on the ESOP game.
Tools for telling the business story
Supervisors and managers get opportunities everyday to explain how their department contributes to company success. Are they taking advantage of them or missing a valuable chance to connect employees with company success? To enable mid-level leaders to recognize those opportunities, Workplace Development provides field-tested coaching for mid-level leaders. Through our practical process, supervisors gain skills for telling the business story through scoreboards, charting, games and employee challenges. Use these tools to give your supervisors concrete ways to make ownership meaningful and connect company performance to ESOP stock value.
Other successful, skill-building sessions for supervisors include interpersonal communication skills, enhancing creativity, dealing with difficult people, and managing organizational change. Unlike a typical, generic training program, Workplace Development sessions integrate employee ownership and ESOPs into the learning, relating the practical knowledge to your company's unique environment and culture.
To bring Workplace Development's successful leadership-development services to your company, please call Cathy Ivancic at 330-896-7285 or email civancic@workplacedevelopment.com.