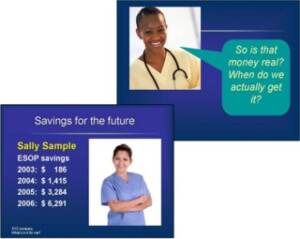 Sharing ownership has a limited impact if employees are not aware of the benefits of your ESOP. Workplace Development provides clients with cost-effective, multi-media learning tools for employees who can't attend on-site training or orientation programs.
These engaging "Talking Presentations" make your ESOP come alive and be accessed 24 hours a day 7 days a week. The presentations are produced in a format that is easy to email and run on laptops in the field or on computers common in all office environments.
A 3-5 minute presentation holds attention and tells your ESOP or business story. Many clients choose to include audio or video clips from company leaders. You can choose to add a quiz or survey for a more engaging experience. These customized tools are tailored to fit your company's learning management goals (LMS compliant). Below is a list of popular topics:
Benefits of our ESOP (useful for new employees and recruiting)
What does ESOP mean for me? (covers common questions)
Welcome to our ownership plan (for your newest participants)
Common myths about our ESOP (dispel distracting misinformation)
How do I read my ESOP statement? (make the most of required information)
This tremendously effective communication solution provides consistent information to people who are not likely to read printed material. Click here to request a consultation on how we can bring these cost-effective tools to your company.
Do you want to see and hear for yourself? Click here to request a sample "Talking Presentation."