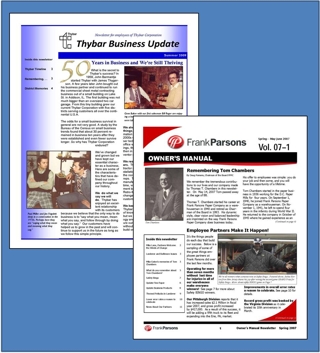 Ouch! Even though an employee newsletter is an important tool for sustaining an ownership culture, getting it together can be a real pain. It can be hard to find the right words, communicate ESOP topics in layman's terms or spark inspiration for new topics. Problems multiply when busy people write your newsletter. These days your best in-house communicators may find themselves doing the jobs of several other people. To address these challenges, Workplace Development provides services to support your company's newsletter.
Behind the scenes, we clear away hurdles and implement a systematic process to strengthen your ownership culture and keep the newsletter on a regular schedule. Benefits of our services include:
Get the job done on time
"Several years ago we recognized that some of us were wearing too many hats which meant the employee newsletter was not going to happen without some help. Workplace Development supports us by moving the newsletter process along, brainstorming with us, and getting words on the things we want to communicate," says Ann Fleck of Frank Parsons. "Their assistance helps us to eliminate the distracting rumor mill issues and bring our unique ownership culture to our in-house publication."
Reach your communication goals
If you don't know why you do a newsletter, then you probably aren't achieving any goals in particular. This often leads to a article production procrastination and apathy about the newsletter itself. Workplace Development's process clarifies your publication's purpose and how it fits in building your culture of ownership. This will inspire your in-house subject matter experts. After all, people get enthusiastic only after they know the real benefit their contribution provides to the company.
Involve more people to tell your ownership and business story
"Our newsletter links our districts together into one company. This helps everyone understand what is needed for business success. Employees from all over the country contribute to the newsletter. They do the thinking and then Workplace Development makes a final newsletter happen," says Tim Warner of Thybar Corporation. Using Workplace Development's newsletter support helps you to create more communicators throughout your company.
WDI's newsletter development process helps your company by:
Providing a clear path to get your newsletter written, reviewed, and delivered on-time.
Involving employees (or a committee) in the process of building your ownership culture.
Doing the tasks you can't get done in-house quickly including interviewing, ghost writing, graphic layout, printing, electronic delivery and facilitating internal review.
If you'd like to hear more about how Workplace Development Inc. can help you make your newsletter more successful, call Cathy Ivancic at 330-896-7285 or email her at civancic@workplacedevelopment.com.