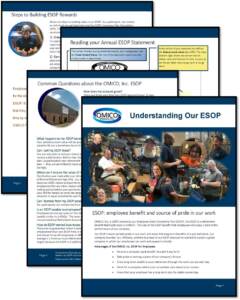 "An ESOP can be complicated to understand," says Sondra Campbell, Controller at Omico Plastics in Owensboro, KY. "The large amount of information contained in Annual Participant Statements can also be very confusing. If employee owners don't understand the benefit and what it means for them personally, they won't view the ESOP as the tremendous benefit that it is."
This is the reasoning behind Omico Plastics' decision to have Workplace Development, Inc., customize its ESOP materials. "I wanted a tool that would explain our ESOP in an easy-to-read format, so employee owners understand how the ESOP works and that they are a vital part of it," says Campbell. "I found lots of generic pamphlets but wanted something that was unique to our company."
Encourage interest and understanding
Omico Plastics had previously used a combination of black-and-white printed handouts, an electronic communication board, and discussion during the annual meeting to share ESOP information. But, according to Campbell, these weren't proving to be effective in delivering the "clear-cut message" employee owners needed to know.
That ultimately led to the decision to customize. But it goes beyond just slapping a corporate logo and colors on something and calling it a day. It means positioning each piece to tell a story … your unique story … through the words and images of other employee owners, and the details that are part of your company.
Think about it: employee owners are more likely to be drawn into learning about the plan's benefits if they see familiar faces, real history and company-specific themes, and not just some generic piece mass-produced for any ESOP to use.
Simplify the complex
Last year was the first that Omico Plastics used the company-specific Understanding Our ESOP pamphlet distributed during the annual meeting. It has received nothing but positive feedback for its visual appeal, clear presentation of information, and its uniqueness to the company. With this type of tool, managers or employees on a communication team don't have to become experts to answer the common questions of their co-workers. The information they need is at their fingertips.
One item in particular stood out to Campbell. "Using one of our actual Annual ESOP Statements within the pamphlet with explanation boxes describing each item was a great benefit," she says. "These statements can seem very confusing to employees. The Reading Your Annual ESOP Statement provides important details for each line item, which employees can then refer to when reading their current year statement."
Inspire new employees
Pieces like these can positively impact the perception of your company in the eyes of employee owners, especially new hires who have no prior experience with your company.
"Going forward, we will include the pamphlet with our new hire package," says Campbell. "This will allow the new employees to become familiar with the ESOP prior to earning shares. Our goal is that they will understand how the ESOP works and look forward to participating in it."
Foster pride in your company's ESOP
For companies just starting out with their ESOP, the value of sharing information unique to their plan can't be overstated — and how it's presented to employee owners is critical if it's to be understood and championed. Campbell agrees.
"Providing information that is unique to your plan and telling your story draws employee owners in and deepens their commitment to the ESOP. This pamphlet explains the ESOP, how it works for your company and includes part of the company story," she says. "I believe employees are more engaged and interested in the ESOP when they feel a connection to the company's history."
To learn more about creating customized ESOP Communication Tools for your committee or managers contact Cathy Ivancic at civancic@workplacedevelopment.com or 330-896-7285, extension 101.