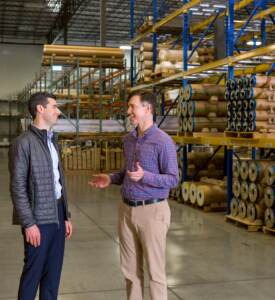 ESOP companies face the unique challenge of building a successful ownership culture with engaged employee owners. The challenge grows exponentially when an employee-owned company acquires another business. So how does an ESOP company address these issues when its core business strategy is acquiring other businesses?
From the perspective of the 100% employee-owned holding company, Empowered Ventures (EV), adding new companies and employee owners to its growing family of businesses is much more of an opportunity than a challenge. "We believe that broadly shared ownership, effective leadership, and employee enablement creates powerful company cultures and financial prosperity for our employee owners," said EV's president and CEO, Chris Fredericks.
Because Empowered Ventures' strategic vision is to acquire at least two companies annually and include them in its ESOP, it contacted Workplace Development to develop a clear, consistent rollout process. "Once we acquire a company, the employees naturally wonder 'what is the Empower Ventures ESOP and what's in it for me?'" Fredericks commented. "We wanted a consistent rollout process, so all our new employee owners understand how our ESOP works, the powerful benefits of employee ownership and the tremendous opportunity they have to build wealth."
"We believe in employee ownership and so does Workplace Development," stated Spencer Springer, EV's Vice President. "Hearing about the benefits of our ESOP from an outsider who has worked with many different ESOPs gives our new employee owners an appreciation and understanding of our plan that they couldn't get from our leadership team. Plus, the customized examples Workplace Development shares and their interactive, fun style is perfect for someone unfamiliar with employee ownership."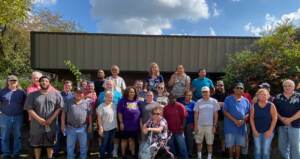 Empowered Ventures recently added Paramount Plastics to its family of companies and Workplace Development presented its "What's in It for Me?" session on-site at Paramount's Elkhart, Indiana, facility. "First off, I love everything about being part of the Empowered Ventures family," said Paramount's new president, Curtis Elliott. "The rollout was great because it communicated a very complex topic in easy-to-understand terms with humor and practical examples. After attending that session, our people have a real-world understanding of the ownership opportunity we now have."
To further embed Empowered Ventures' ownership culture across its businesses, EV formed an ESOP Committee at each of its locations. This spring, for the first time, all Committee members will come together for an ESOP Committee Summit. "Getting all of our Committees on the same page is important to our continued growth and success," Fredericks commented. "Workplace Development consulted with us to develop the meeting agenda and their facilitators will run the event. We're excited because it features EV-focused training, group discussions and hands-on activities to enhance Committee members' skills and knowledge."
Because each of Empowered Ventures' companies is in a different stage of its cultural development, one summit goal is to develop an overall communications strategy that affords each company the flexibility to meet the unique needs of its employee owners. "I could easily see this becoming an annual event especially as we continue to grow and add new companies and employee owners to the EV family," Springer added
If you're interested in how to successfully onboard new employee owners or enhance the effectiveness of your ESOP Committee, please contact Workplace Development.